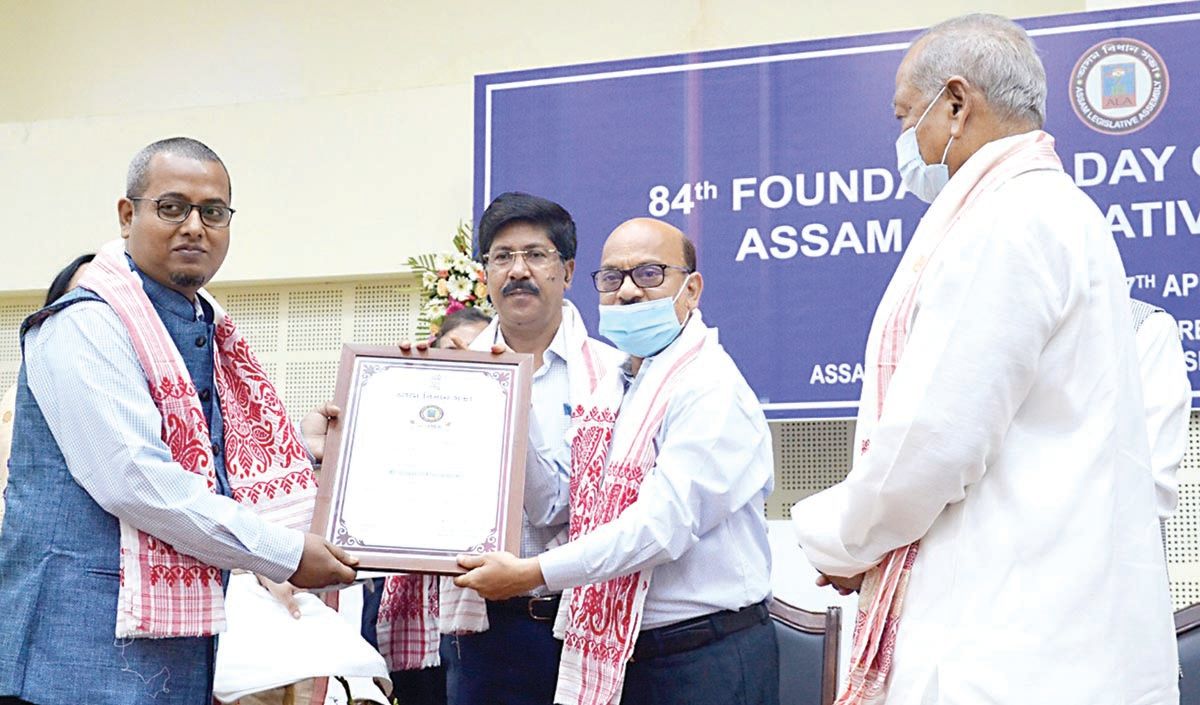 Pranjal Bhuyan (L) receiving the award. – AT photo
84th foundation day of Assam Legislative Assembly celebrated
Staff Reporter
GUWAHATI, April 7: Pranjal Bhuyan, staff reporter of The Assam Tribune, has bagged the Best Reporting of Assembly Proceeding Award, 2020-2021.
Speaker Hitendra Nath Goswami handed over the award to Bhuyan at an event held as part of celebration of the 84th foundation day of the Assam Legislative Assembly here today. The award carries a cheque for Rs 50,000 and a citation.
Attending the foundation day celebration event as chief guest, Speaker of the Meghalaya Legislative Assembly Metbah Lyngdoh spoke on the relationship between Assam and Meghalaya. In his speech, Lyngdoh cited Assam as the elder sister of Meghalaya. He also recalled the history of the Assam Assembly and its glorious journey.
Addressing the event as a distinguished guest, former MLA and educationist Dr Nagendra Nath Sarma termed the Assam Legislative Assembly one of the holy places for the people of Assam.
"In the last five years, I have observed a positive change in the Assam Legislative Assembly where the Speaker provided adequate space to every member to raise their voice in the House," Dr Sarma said.
Another distinguished guest and former MLA Hiranya Bora spoke on the history of the Assam Legislative Assembly and its journey since the days of British-ruled India. He also recalled the contributions of legislators of the Assembly towards the country.
Delivering the presidential address, Hitendra Nath Goswami said that delimitation of Assembly constituencies and increase in the total number of constituencies became necessary due to increase in the State's population. He also stated that productivity during Assembly sessions has gone up during the recent years with more and more MLAs participating in proceedings of the House. He termed it a positive development.
As part of the celebration, a souvenir was also launched at the function. Deputy Speaker Aminul Haque Laskar, Secretary of the Assembly SK Sharma along with staff also took part in the event.