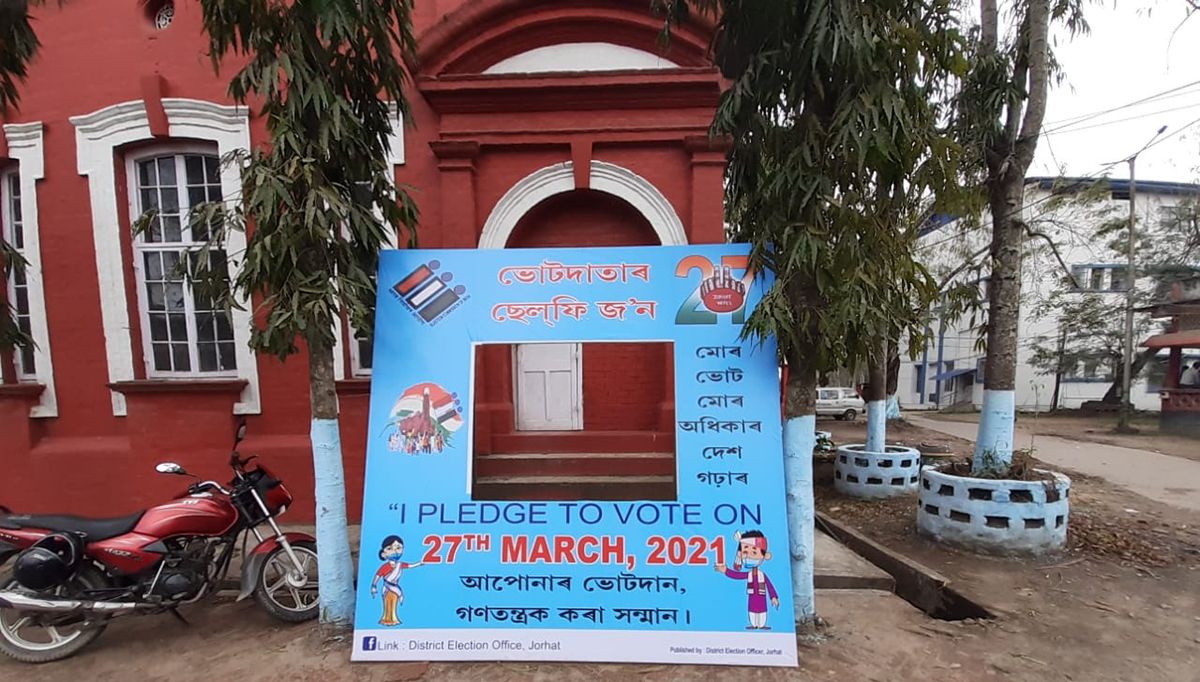 The selfie zone at the Jorhat DC office complex, with the impressive British-era building in the background. – Photo: Jorhat Election Office.
Staff Correspondent
JORHAT, March 7: Taking a selfie or a group photograph in front of any landmark building or structure that has a historical significance is a delight for many, which the Jorhat district administration has tried to cash in with an objective to increase voter participation in the ensuing Assembly election.
The district administration has therefore set up a selfie zone in front of the prominent red-coloured British-era building that houses the Jorhat Deputy Commissioner's office with several branches along with the judiciary within the campus.
The building is a landmark of Jorhat and perhaps only one of its kind in terms of architecture and size, built during the British rule.
The district administration has put up a huge frame having a blank square area where one could go and take selfies or group photographs that could be uploaded in social media platforms. Slogans in Assamese and English pledging to vote on March 27 are inscribed on the frame.
Jorhat Election Officer Dinsengfa Boruah told this newspaper that as part of the activities undertaken under the Systematic Voters Education and Electoral Participation Programme (SVEEP) of the Election Commission of India to create awareness among voters to exercise their franchise, the district administration thought of the idea to put up a selfie zone having the red-coloured landmark building in the background hoping the initiative could be an interesting way to draw people's attention on the topic.
Boruah, in view of a sizeable section of people visiting the Jorhat DC office and judiciary campus daily, thought about having a selfie zone for promoting voter participation. It could contribute to generate awareness about the need to exercise the most valuable right of a citizen.
She said that people after taking selfies or group photographs like to upload the snaps in social media platforms which were much popular not only among the youths, but also amongst other age groups. Boruah expects that the initiative will be successful in achieving its objective.
The Election Officer further stated that several other activities too were under process under SVEEP like putting up messages to vote in APDCL electricity bills, plan to distribute paper-made carry bags to customers in shops and shopping malls.
Boruah added that the district administration had already roped in two Padma Shri awardees of Jorhat - natureconservationist Jadav Payeng and banker Lakhimi Baruah,who took the initiative to establish the Jorhat-based Konoklota Mahila Urban Cooperative Bank, a significant all-women bank in the North East, as brand ambassador for SVEEP activities.