Dhubri, Feb 22: A week-long training workshop on Borgeet and Thiyo Naam held at Madhupur Satra, located in Coochbehar, West Bengal from 15th February conducted by Cultural Affairs department, Govt of Assam concluded on Monday.
The workshop was inaugurated by Burha Satradhikar of Madhupur Satra Sri Lakhe Kanta Mahanta in the presence of local people and other members of the historic Satra and it was informed that the Borgeet Workshop was conducted by Guru Smt. Lata Sonowal of Tinsukia while the Thiyo Naam workshop was conducted by Gurus Sri Kanak Ray and Sri Dhanjit Ray of Bongaigaon.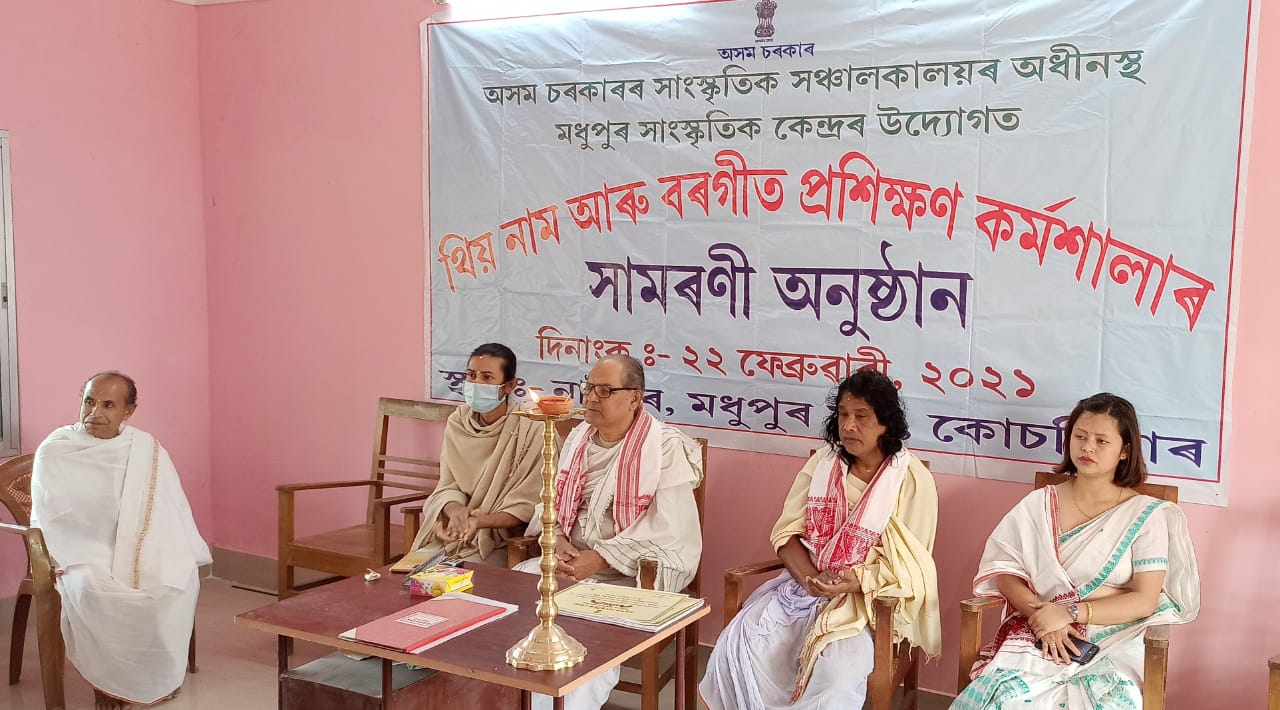 A total of 30 students of Madhupur and Coochbehar area actively participated in both the workshops.
"The Madhupur cultural Centre under the aegis of Directorate of Cultural affairs, Govt of Assam conducts regular workshops on various Vaishnavite Sankari art forms such as dance, songs, drama etc as awareness program and also to train the local children in these subjects", informed by Mrinmoy das, officer in charge, Madhupur & Gauripur Cultural Centre.
Sri Lakhe Kanta Mahanta, Satradhikar, Madhupur Satra while speaking in the concluding ceremony said that in the future the workshops and other training programs should be held for at least 20 days so that the participants can fluently learn the basics of the different forms of art taught in the course. He also praised the initiative taken by Cultural Affairs department that at a place far away from mainland Assam, such workshops are being conducted and appealed the government to depute a full-fledged trainers and teaching staffs at the centre.
The members of the Satra demanded before the Assam government to provide necessary musical instruments and other facilities at the centre so that the local children can learn to play the instruments at the centre.