Dergaon, Feb 2 — The seed of the present-day slogan Atmanirbhar was planted by an educated youth way back in 1994 at his own efforts at Negheriting Dergaon in Golaghat district.
Khogen Gowala (45), an educated tea tribe entrepreneur, who started his flower nursery business at Negheriting has made him now a successful businessman.
Born to late Sonu Gowala and late Moni Gowala of Bhakat Pamua gaon in Jorhat district Khagen was the eldest child among the four siblings in the family.
After passing higher secondary examination he didn't move to government jobs and started his own business 'Milon Nursery' with his own efforts.
Though at the beginning he looked for job at PWD later he started his nursery at a land of one and half katha but now he has bought another plot of land to make his nursery of one bigha and five lechas.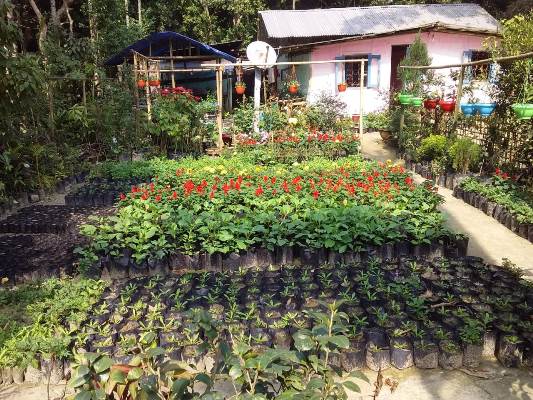 Having gained experience with three years training at a Nursery in Jorhat he managed to make his nursery scientifically advanced. With a huge variety of flowers seed procured from outside the State, his nursery is now famous among the flower lovers in greater Dergaon.
Talking to The Assam Tribune Khogen said that he never received any government assistance for his business.
"With an investment of Rs. 15000-20000 per month as recurring expenditure I have engaged two workers with monthly salaries. From the earnings, I am looking after my five-member family along with the academic expenditure of the children.", he said.
He also said that after the construction of the four-lane NH37 is completed, he plans to build a showroom of the nursery by the highway. He lives with his wife along with a son and two daughters where the son is studying BA while the elder daughter is at higher secondary level and the other is at high school level.
"I am a regular customer of Milon Nursery and appreciate the owner as he is well behaved and is running his business with honesty.", Kalpana Hazarika, a customer said.