TRAVEL
Gauranga Pani Saikia
One fine Sunday, we made a plan to visit the Thengal Kachari Museum. Inaugurated by the chief minister of Assam, Sarbananda Sonowal, on December 11, 2020, the Thengal Kachari Cultural Centre & Museum is located in Titabor (Balijan Gaon). Constructed by the Thengal Kachari Autonomous Council, it is popularly known as the Thengal Kachari Sanskritik Kendra Aru Sangrahalaya.
We were amazed by the beautiful and eco-friendly environment in and around the museum. Photography is not allowed inside the museum. On entering, the first thing we saw was a bamboo artefact that featured a buffalo fight. Most of the pillars are decorated with face masks of rakshas and rakshasis. Some walls are covered with bamboo sheets. Ascending to the first floor, we saw a wall painting reflecting the cultural outfits of some of the greater Kachari groups – Boro, Thengal Kachari, Deori, Sonowal Kachari, and the Bihu attire. On the right side of the painting, there was a beautifully designed bamboo craft mounted on the ceiling.
Just before the entrance into the museum, a photo of Srimanta Sankaradeva is displayed on the wall, along with two bamboo sculptures depicting the Sattriya Nrittya. The museum gives us a glimpse of everything we want to know about the Kachari tribe. The room has several sections that display hunting tools, agricultural items, clothing, musical instruments, and some photographs about Nature and livelihoods of Assam. The museum also holds the Hasi Pator Puthi. The most exciting part of the museum was the model of the traditional house of the Kachari people that was presented in a realistic way.
On the ground floor, few dolas and salonis were pasted on the wall. Behind the building, there is a small park for children, wall graffiti, and a particular area of the building wall was decorated beautifully with photographs. One can also play video games and experience 7D.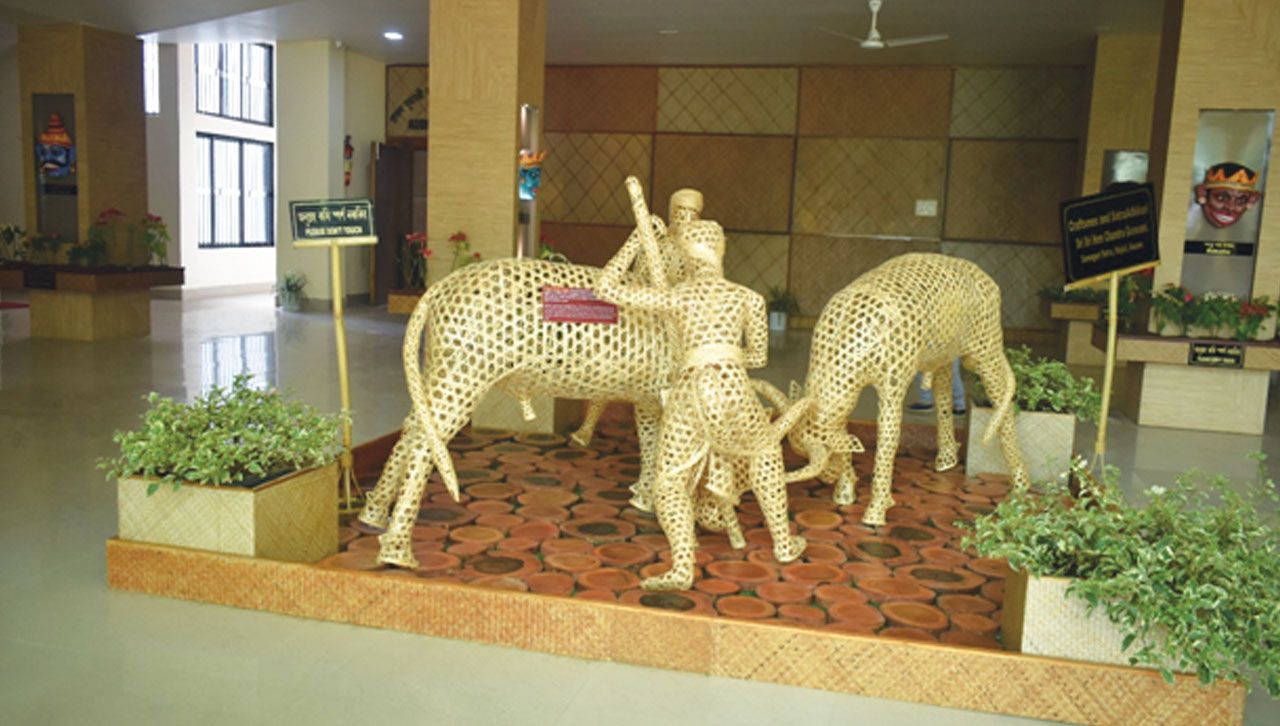 Overall, the unplanned visit was a good experience and definitely added to our knowledge. This museum will help people in knowing the Thengal Kachari tribe, which is notable for preserving the culture and heritage of the place, thereby promoting development primarily in the tourism sector. The museum will be a beacon for the subdivision of Titabor as well as for the state of Assam. After hours of walking around and enjoying the beauty of the museum, you are sure to feel hungry. Sit back and relax in the cafeteria that's right in front of the museum.