Chandasmita Deka
I have been always fascinated by the natural beauty of the hills. I want to look up places blessed with the Almighty's artistry but never got a chance to do so. Fortunately, I got a proposal from my best friend to go for a one-day trip to Meghalaya, recently. I had heard a lot about the incredible beauty of this place but I had not yet had an opportunity to witness it. So, I didn't let this chance slip away.
Five of our friends accompanied us on our trip. I really feel blessed to have been able to witness such pristine natural beauty. Meghalaya is synonymous with serenity and eternity. Though our trip was only a short one, I didn't miss even a single second to enjoy the breathtaking landscape of this place. The charm of the hills of Meghalaya left me enthralled throughout my entire journey. That day, I came to know why this place is called the Scotland of the East. Pine-covered misty hills, elevated trees, charming plateaus, crystal-clear rivers, cascading waterfalls, lush green forests, and especially, the bracing clouds have made this small Northeastern hill state a mini paradise.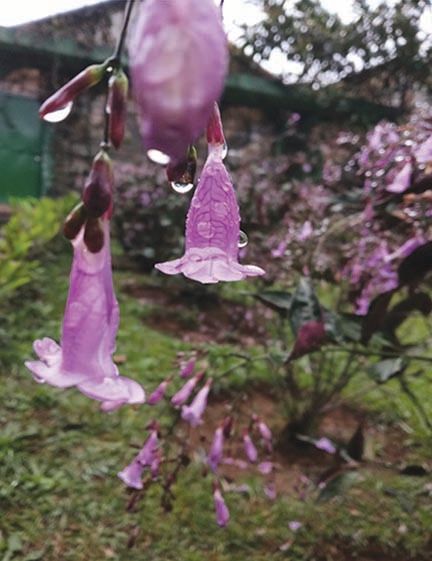 Can you imagine yourself amidst clouds? During our journey, our car was totally enveloped by clouds at some places. We could almost feel the clouds touch us. Our car stopped at Barapani from where one can enjoy the mesmerising view of the misty hills. The pleasant weather with little bursts of rain made our journey more exciting. It was cherry blossom time when we had visited the state. The small hill station looked like a fairy wearing a pink dress. We stopped at Ward's Lake to have our breakfast.
After some time of relaxation, we headed towards Mawlynnong – the cleanest village of Asia. The village is quiet, calm, and one can enjoy serenity and tranquility here. All credit goes to the local people of the village who have kept the place so clean and tidy. One of the most impressive things I found about the village is proper and planned waste-management, all in a traditional way. All the wastes are collected by the locals in handmade bamboo baskets. The charm of this village beckons travellers and allows a peek into a world that is yet to be touched by the uglier facets of modernity.
Meghalaya is, indeed, a retreat for those who love Nature and solitude. The place has inspired many a poet to pen rich literature. Despite having being blessed with such beauty, the state is still largely unexplored. I must say, everyone should visit this place once to experience the unmatchable grandeur of Nature.