FICTION – Aranyak Saikia, [email protected]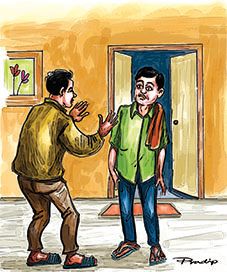 The question, therefore, for the Sarmas was how to convince their domestic help that Mr. Sarma was having a simple case of viral fever and sinusitis. "The doctor says that he has a simple case of severe sinusitis," said Mrs. Sarma to a visibly worried Ramani. "He does not have any of the symptoms of the virus. So, he doesn't have to get tested," she added. "But don't talk about his illness to others outside. They create an unnecessary fuss." Of course, the last line, her demeanour, her choice of words and the overall gloom and fuss in the house was more than enough to convey the obvious to Ramani. After all, he had been in the Sarma household for a long time. And in any case, almost everyone knew that fever is the one key symptom of this virus.
True to his loyalty and respect for the family, Ramani never expressed his worry or fear thereafter. He was a domestic help after all, not a family member. He could not be privy to all the discussions and ruminations of his masters. He did not talk about it to their neighbours or their domestic help.
Yet, the question that bothered him the most was whether he should disclose it to his wife. If he was honest with her, it was certain that she would ask him to come back. To not speak the truth would go against his moral responsibility as a good and loyal husband. More than the fear of contracting the virus from his master, it was the looming dilemma over telling his wife the truth that was giving him the pangs.
Even though he was feeling a bit betrayed over the fact that Mrs. Sarma was not taking him into confidence, yet he could not shirk off his responsibility of standing by the family in this hour of need.
"Everything is fine here," he would say to his wife when she would call him at night after dinner. Sometimes, listening to the daughter's childish, angel-like voice would give him an ache in his chest. Why am I risking my life for this? What kind of a person is Mr. Sarma! At least, think about the other members in the house. Why risk their lives just because you don't want to die alone! He would promise himself to not think that way again. Yet it used to haunt him every night.
"What has happened to your malik?" People in the neighbourhood would ask as he headed for the local bazaar every evening.
"How does it matter to you? It's none of your business!" Ramani felt like shouting it out. But he didn't.
"Our sahab is working on a special assignment from home itself. Many people have tested positive in his office. So, he is working from home."
While delaying the truth about Mr. Sarma's illness was his solemn responsibility, Ramani was still not sure how to delay or rather avoid the possibility of getting infected from this potentially fatal virus. Every day, at least once or twice, he would feel some soreness in his throat or a pain in his chest. The virus has finally found me, he would think initially. "Ramani, come here!" Mrs. Sarma's call to attend to some household work would make him forget about his initial anxiety and over time, his ache or soreness. Yet every moment of his day was spent contemplating over the question of informing his own family about the virus.
In the next few days, Mr. Sarma went through bouts of fever and cough. However, it was never serious or debilitating to his overall health. By the seventh day, his fever had subsided. The family's spirits improved, Ramani included. Mr. Sarma started going to office. Normalcy returned to the household. Ramani felt relieved. More so that his lie to his wife was never discovered, and partly so because nobody in the neighbourhood found out about Mr. Sarma. It also gave him some confidence. Maybe the virus is not so dangerous after all. Or what if his master was never infected with the virus in the first place?
About a week later, Ramani woke up with a heavy head, cold feet and a sore throat. He ignored it and carried on with his daily errands. By mid-afternoon, he had a raging fever with a shiver going down his spine. Till then he had not informed the Sarmas about it, but it was beginning to dawn upon him that maybe the dreaded virus had finally got to him. After cooking their lunch, he told Mrs. Sarma that he could not carry on any longer.
Mrs. Sarma gave him a tablet of paracetamol and asked him to rest in his room. While he lay on his bed, Ramani could hear the muffled voices of the Sarmas in their bedroom, which was on the opposite side of the house. A few scattered words like 'hospital', 'isolation', 'testing' and 'home' were drumming on his ears, but the fever had the effect of drowning most of the other words. By the evening, his fever subsided as the paracetamol kicked in. Of course, it was a momentary relief till the medicine's effect remained for another five or six hours.
Mrs. Sarma asked him how he was. He replied in the affirmative. "Why don't you go home for a few days?" She asked. "You will feel much better with your family there. You can leave tonight itself." She added. Ramani took a moment's pause and then replied, "Yes, Baideu¸ I will go and pack my things." Of course, it did not take much time for him to understand why he was sent home. But true to his loyalty, he never questioned the motives of his masters. They are more knowledgeable. They might be correct after all. Just as they were correct the last time.
About four days later, Mr. Sarma was sipping his coffee in front of the television watching the evening news when Mrs. Sarma came up to him. She went near her husband's ear and whispered, "Ramani's wife just called. He has been hospitalised."
(Concluded)