Sailen Baishya

India skipper Virat Kohli became the first cricketer to hit 100 million followers on Instagram on March 1. With this, the cricketer joined the 100 million club, which includes names like Lionel Messi, Cristiano Ronaldo, Neymar, Beyonce, Dwayne 'The Rock' Johnson, and Ariana Grande. Kohli is also the fourth most-followed sportsperson on Instagram. Ronaldo tops the chart with 265 million followers, while Barcelona captain Messi and Brazil's Neymar stand second and third in the list with 186 million and 147 million followers, respectively. Kohli had earlier become the first Asian to reach 75 million followers on Instagram. Apart from this, Kohli also has a massive fan following on other social media platforms like Twitter and Facebook. As of March 2021, he has more than 40.8 million followers on Twitter, and over 36 million likes on Facebook.
In today's Master's Choice section, do try out a set of questions, which has been compiled by one of our regular contributors, Jayanta Topadar, Vivekananda Kendra Vidyalaya, Dhemaji. Meanwhile, keep writing to us with quiz reports, questions (with answers and full postal address) and interesting bits of information to: Quiz Zone, Horizon, C/o The Assam Tribune, Maniram Dewan Road, Guwahati. SMS or WhatsApp me at: 98640-26322 and e-mail at: [email protected] or qui[email protected] To read Quiz Zone online, you can log on to http://epaper.assamtribune.com.
MASTER'S CHOICE
1. In which year was the first successful cotton textile mill established in India and where?
2. In which novel by Robert Louis Stevenson is the narrator a teenager named David Balfour?
3. It is known as 'Conuco' in Venezuela; 'Ladang' in Indonesia; 'Masole' in Central Africa; 'Milpa' in Central America and Mexico; 'Ray' in Vietnam and 'Roca' in Brazil. What am I referring to?
4. Which crop grown in India is known as 'golden fibre'?
5. This is a small country located in Europe and one of the six founding countries of the European Union. It has a population of a little over a crore; about half of the population of Haryana in India. Name it.
6. Created by William Hanna and Joseph Barbera, which pair of cartoon rivals made their first appearance in February, 1940?
7. He was a scientist from New Zealand who invented the "Lead Rubber Bearing", which protected buildings from earthquakes. Who was he?
8. In which year was the first cement plant set up in India and where?
9. In 2013, which pope resigned due to his failing health and old age, becoming the first pope to relinquish his title in almost 600 years?
10. American pharmacist and chemist Wilbur Scoville died in 1942, but what is he best remembered for?
READERS' CHOICE
11. What is the new name of Rajya Sabha and Lok Sabha TV? (Bidyut Das, Guwahati)
12. Who is the author of the book We are Displaced: My Journey and Stories from Refugee Girls Around the World? (Amrita Nath, via SMS)
13. Name the visionary leader under whose dynamic leadership the unification of Germany was completed in 1871? (Subrata Dutta, Tangla)
14. The Greatest: My Own Story is the autobiography of which legendary boxer? (Rim Baruah, North Lakhimpur)
15. Unakoti festival is celebrated in the month of February in which Northeastern state of India? (Adish Agarwalla, Moranhat)
16. Which film won Best Motion Picture – Drama at the Golden Globe Awards 2021? (Sneha Goswami, Tezpur)
17. Which Indian boxer has been appointed as the chairperson of AIBA's champions and veterans committee? (Maharnab Hazarika, Guwahati)
18. Researchers recently discovered fossils of dinosaurs that lived 140 million years ago in which nation? (Bidisha Das, Pathsala)
Picture Clue: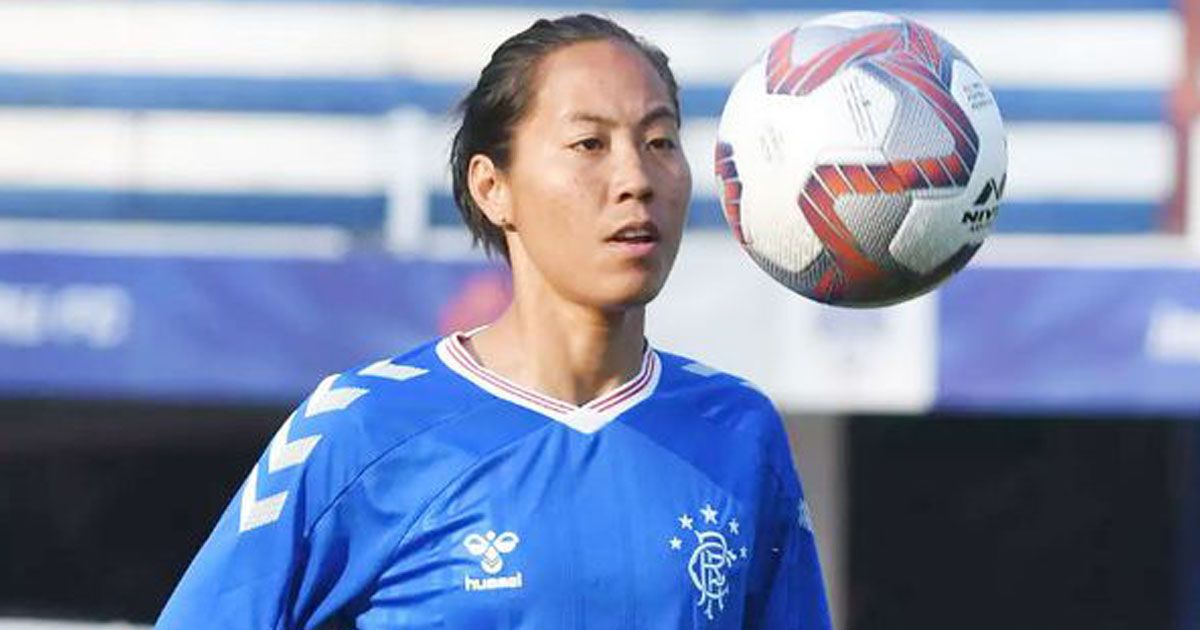 19. She became the first Indian woman to score in a professional football league in Europe (Scottish Women's Premier League). Identify the footballer from North East. (Rupak Kalita, Nalbari)
QUESTION OF THE WEEK
20. George Smith of New Haven, Connecticut, claimed to be the first to invent it in 1908. It was officially registered to the Bradley Smith Company of New Haven by the US Patent and Trademark Office in 1931. Smith used the idea of using hard candy in its present form and named it after a popular racehorse that he had seen at a local fair. What is it? (Dr Jayanta Kumar Sharma, Horticultural Research Station, Kahikuchi, Guwahati)
-------------------------------------------------------------
ANSWERS
1. 1854 in Bombay, 2. Kidnapped, 3. Slash-and-burn agriculture, 4. Jute (because of its high cash value in the market), 5. Belgium, 6. Tom and Jerry, 7. Bill Robinson, 8. 1904; Madras (now Chennai), 9. Pope Benedict XVI, 10. Creating the Scoville scale for measuring the heat of chillies, 11. Sansad TV, 12. Malala Yousafzai, 13. Bismarck, 14. Muhammad Ali, 15. Tripura, 16. Nomadland, 17. Mary Kom, 18. Argentina, 19. Ngangom Bala Devi from Manipur (Rangers FC), 20. Lollipop, the popular sweet candy. It was named after the race horse Lolly Pop.